What Can You Expect from Our Stamford and Norwalk Firm?
Your Case Is Personal To Us
When you need support the most, our lawyers treat you like family.
When you call Wocl Leydon, you talk to knowledgeable personal injury attorneys in Connecticut right from the start. You don't go through a long screening process. You aren't handed off to a paralegal. Our firm makes it a priority to establish a strong attorney-client bond starting with your first call. Our compassionate attorneys will meet with you directly to evaluate your case, and a partner in our firm will personally oversee your claim from start to finish. That's the Wocl Leydon way, and that's why clients consistently recommend our law firm to their friends, family, and neighbors.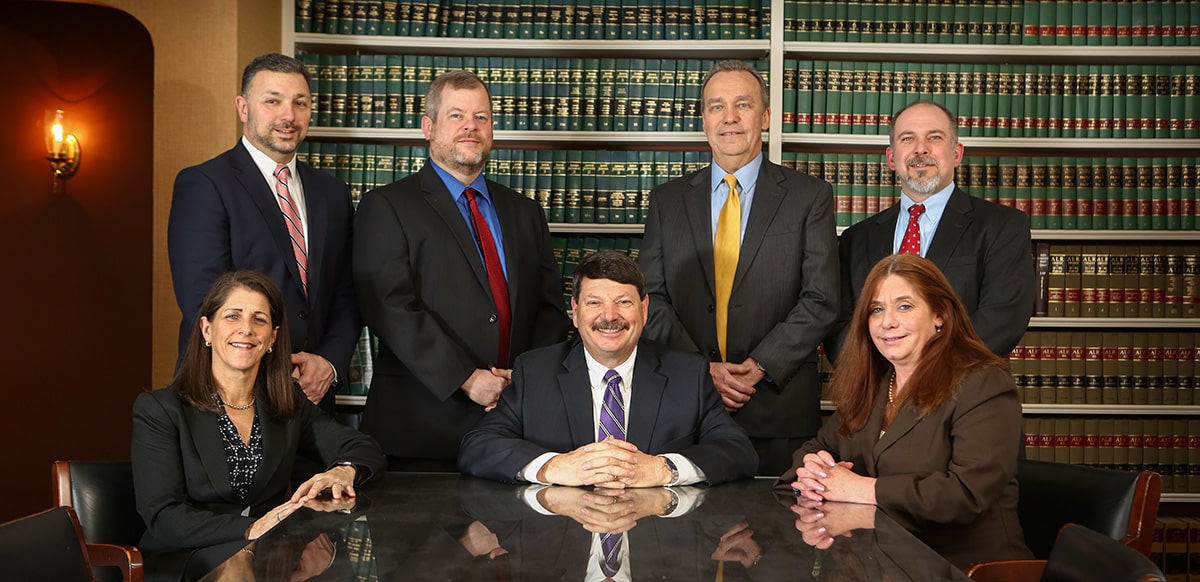 Our Firm Values Family And Relationships
We treat everyone who walks through our doors like family. We are a tight-knit firm, with most of our employees having worked here for decades. We believe that says something about us: Personal relationships are important. Every case we handle affects someone's life and family, and we take that very seriously. We support our clients through what is often a very difficult time in their lives, and we value the bonds that we are able to build through this experience.
Our Personal Injury Attorneys in Connecticut are Sensitive To The Needs And Concerns Of Our Clients
We understand that when a person or a family experiences tragedy, suffering and loss associated with a serious personal injury or death, they want a law firm that will listen to them and address their concerns. Everyone in our firm has the utmost respect and compassion for the clients we serve. We know the anxiety that can come from being involved in a legal matter, and we strive to ease the stress and uncertainty by explaining what to expect and keeping clients updated as their case progresses.
Our Attorneys Have A Broad Range Of Litigation Experience
If you're dealing with a serious personal injury claim, you need an experienced legal team that is prepared to go all the way to trial. The respected litigators at Wocl Leydon have represented clients at trials in the Connecticut Superior Court as well as the Federal District Court for Connecticut. Our firm also handles appeals in the Connecticut Appellate Court, Connecticut Supreme Court, and Federal Court of Appeal for the Second Circuit.
Our Personal Injury Attorneys in Connecticut Understand What It Takes To Persuade A Jury
In the courtroom, the trial lawyers of Wocl Leydon educate jurors with expert witness testimony, videotape depositions, medical illustrations, anatomical models, enlargement of photographs, and day-in-the-life videos. We not only describe but we demonstrate to juries how our clients' injuries have altered their lives. Many jurors have commented after trials that they were able to understand complex medical conditions, complicated surgical procedures, and the anatomy of the body due to our trial lawyers' ability to explain the medical aspects of the case in an understandable fashion.
Our Law Firm Has A Long Track Record Of Success
With a focus on complex personal injury and medical malpractice litigation, our firm has been helping injured individuals and families throughout Connecticut since 1991. Our lawyers are renowned for their extensive preparation, attention to detail, and zealous advocacy. Wocl Leydon has handled many significant and high-profile cases, and many of our victories have resulted in significant and important changes in the law. We are proud that our work has forced municipalities, physicians, commercial landowners, employers, and insurance companies to change the way they deal with citizens in Connecticut.
We Have Earned Respect From Our Peers
In the legal community, Wocl Leydon is recognized as being an aggressive litigation firm that often accepts referrals on complex cases from fellow attorneys. Our lawyers are often asked to speak at legal seminars, we serve on committees that recommend changes in the law to the Connecticut legislature, and have many legal resources that guide other attorneys and clients.
Landmark Decisions Helping the Injured In Connecticut
1998
Dowling v. Slotnick, 244 Conn. 781, cert. denied 119 S.Ct. 542, 142 L.Ed. 2d 451
Established the right of illegal aliens to receive workers' compensation.
2001
Gazo v. Stamford, 255 Conn. 245, 765 A.2d 505
The Connecticut Law Tribune characterized in its Supreme Court review as the most significant tort
case of 2001.
2001
Leydon v. Greenwich, 257 Conn. 318, 777 A.2d 552
A landmark constitutional case establishing the right of access for nonresidents to municipal parks, which the Connecticut Law Tribune characterized as the most significant constitutional case of 2001.
2003
Bongornio Supermarket, Inc. v. Zoning Board of Appeals, 266 Conn. 531, 833 A.2d 883
Allowed the largest supermarket in Stamford, Connecticut to be built on U.S. 1 despite a competitor's attempt to block it.
2004
Tarnowsky v. Socci, 271 Conn. 284, 856 A.2d 408
Our Connecticut personal injury lawyer helped extend the statute of limitations to allow the victim of a slip and fall accident time to discover the identity of persons who may be responsible for the injury.
2010
Klein v. Norwalk Hosp., 299 Conn. 241, 260, 9 A.3d 364, 376
Held that a hired gun defense expert doctor's testimony was inadmissible junk science.