Our Attorneys & Staff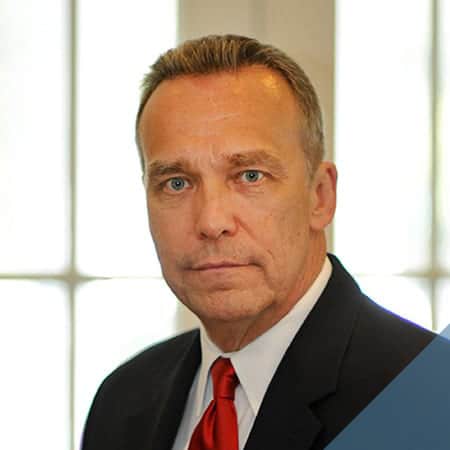 Practice Areas
Assault & Battery - Plaintiff
Bad Faith
Estate Planning
Medical Malpractice
Motor Vehicle Accidents - Plaintiff
Nursing Home Negligence - Plaintiff
Premises Liability -- Plaintiff
Probate And Estate
Slip And Fall - Plaintiff
Worker's Compensation
Wrongful Death - Plaintiff
Bar Admissions
U.S. District Court District Of Connecticut, 1982
Connecticut, 1981
Education
Dickinson School Of Law Of The Pennsylvania State University, Carlisle, Pennsylvania – J.D., 1981
Kutztown University, Kutztown, Pennsylvania – B.A., 1976
Memberships
Connecticut Bar Association
Connecticut Trial Lawyers Association, Member
Fairfield County Bar Association
American Association For Justice
The National Academy Of Motorcycle Injury Lawyers
Pro Bono Activities
Connecticut Superior Court For The Judicial District Of Stamford/Norwalk
Donald "Ted" A. Hendrie
Attorney
Practice Areas
Assault & Battery - Plaintiff
Bad Faith
Estate Planning
Medical Malpractice
Motor Vehicle Accidents - Plaintiff
Nursing Home Negligence - Plaintiff
Premises Liability -- Plaintiff
Probate And Estate
Slip And Fall - Plaintiff
Worker's Compensation
Wrongful Death - Plaintiff
Bar Admissions
U.S. District Court District Of Connecticut, 1982
Connecticut, 1981
Education
Dickinson School Of Law Of The Pennsylvania State University, Carlisle, Pennsylvania – J.D., 1981
Kutztown University, Kutztown, Pennsylvania – B.A., 1976
Memberships
Connecticut Bar Association
Connecticut Trial Lawyers Association, Member
Fairfield County Bar Association
American Association For Justice
The National Academy Of Motorcycle Injury Lawyers
Pro Bono Activities
Connecticut Superior Court For The Judicial District Of Stamford/Norwalk
About Ted
Donald (Ted) A. Hendrie was born and raised in Pennsylvania. He received a Bachelor of Arts degree from Pennsylvania's Kutztown University in 1976. Upon graduation, he accepted a position as the administrative assistant to State Senator Michael A. O'Pake, a member of the Judiciary Committee and Chairman of the Senate Committee on Aging and Youth. His responsibilities included solving problems and issues facing the senator's constituents and preparing legislation for the Senate Judiciary Committee. Ted loved working on behalf of the people residing in the senator's district. He knew there he was making a difference. So, it was his work in the senator's office and his work with the Senate Judiciary Committee that propelled him on to his next step, law school.
Ted went on to earn his law degree from Pennsylvania State University – Dickinson School of Law in 1981. Upon graduation and passing the Bar, Ted joined the Bridgeport, Connecticut, law firm of Owens & Schine. He was admitted to the practice of law in Connecticut in November 1981. Very shortly thereafter, he was also admitted to practice in Federal Court for the District of Connecticut.
Peerless Commitment to Clients
Feeling called from his past experience in the senator's office, Ted wanted to focus his practice on helping those who couldn't help themselves. So, from 1981 until 1991, he concentrated his practice on litigation of personal injury, worker's compensation, real estate, and commercial business matters. In 1988, he became a partner in the firm of Betar, Quatrella & Hendrie.
Ted has always had an entrepreneurial spirit. In 1991, he decided to pursue this passion and became the president of MacNaughton & James, Ltd., an international trade development firm. He represented businesses and state governments throughout the United States in their trade negotiations with Latin America, Europe, and Asia.
Wanting to return to the practice of law and in search of a law firm that shared his values regarding exceptional client service, Ted found himself in the perfect situation when in late 1996, Nick Wocl asked Ted to assist him on a case. Ted agreed, and one case became several more. In 1997, Ted joined the current firm of Wocl Leydon Personal Injury Attorneys and became a partner several years thereafter.
Having worked at another law firm as well as having been a partner in another business, Ted knew that he had found his permanent "home." "Wocl Leydon is special because it is composed of a team of professionals that not only are very, very good at what they do but are also so genuinely interested in the well-being of their clients and making sure that things are made right for them," Ted said. Since that time, Ted has focused his practice solely on the area of personal injury litigation.
"Being an advocate for someone who has been harmed and often has nowhere else to turn makes my job completely worthwhile. It is gratifying to be able to change their situation and make things right again for them and their family."
His expert skills in negotiating the resolution of cases through mediation, arbitration, and other forms of dispute resolution on behalf of the firm's clients allow him to do just that.
Today, Ted lives in Fairfield, Connecticut with his wife, Lynn, to whom he has been happily married for over 35 years! They have two wonderful sons, Jamie and Brian, who now have their own successful careers and reside nearby in Stamford, Connecticut. Ted has always enjoyed his family and their friends. While the boys were young, he spent many years coaching soccer, and basketball, and being involved in all aspects of their lives. Today, he enjoys restoring a sailboat with his sons and sailing on the weekends. He loves to spend time with Lynn and his sons, watching sporting events and just enjoying time together. He and Lynn love to travel, and they feel very fortunate that they are able to spend time with and visit extended family throughout the U.S.