Our Attorneys & Staff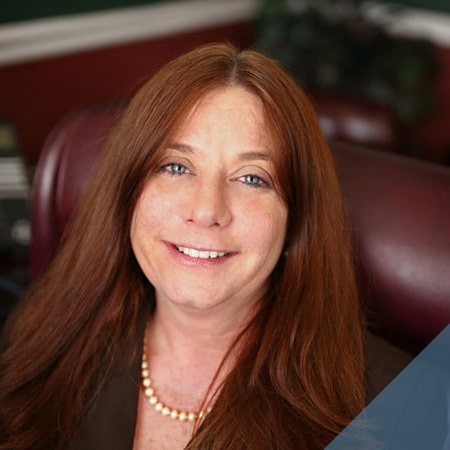 Practice Areas
Personal Injury - Plaintiff
Bar Admissions
Education
Pace University School Of Law, White Plains, New York ─ J.D., 1997
Emerson, Boston, Massachusetts ─ BSSP, 1990; Honors: Dean's List, Three Years; Honors: Member, Golden Key Society
Memberships
Stamford/Norwalk Bar Association, Co-Chair Young Lawyers, 2000 – Present
The National Academy Of Motorcycle Injury Lawyers
Riker J. Donahue
Attorney
Practice Areas
Personal Injury - Plaintiff
Bar Admissions
Education
Pace University School Of Law, White Plains, New York ─ J.D., 1997
Emerson, Boston, Massachusetts ─ BSSP, 1990; Honors: Dean's List, Three Years; Honors: Member, Golden Key Society
Memberships
Stamford/Norwalk Bar Association, Co-Chair Young Lawyers, 2000 – Present
The National Academy Of Motorcycle Injury Lawyers
About Riker
A Stamford native with a strong Irish Catholic upbringing, Riker Donahue has always had a desire to help those in need. Before she even graduated from Stamford Catholic High School in 1986, she started working for Michael A. Catalano Attorney at Law. This was the beginning of "her love of the law." From then on, she knew she wanted to earn a law degree so that she could use her knowledge and skills to fight for the rights of those who had been injured.
From there, she started her undergraduate career at Emerson College in Boston and began working to earn her degree in communications, politics, and law. Because Riker knew she wanted to help others who couldn't help themselves, she knew that it was a natural step to pursue a career in law. Her upbringing had instilled in her that if she worked hard, stayed focused, and stayed true to her values, she would achieve her goal. This work ethic translated into three straight years on the Dean's List and graduating cum laude in 1990.
Compassionate, Hardworking, and Successful
The law called to her immediately upon graduating from college, and she began her career at Day, Berry & Howard as a litigation secretary. She worked on bankruptcy and labor law issues as well as assisted with general secretarial duties for the entire firm one night a week ─ once again, showing her hardworking spirit, love of the law, and dedication to helping those in need.
Riker began to consider a greater commitment to a career in the law. So in 1994, she began her law school education at night at Pace University School of Law, while also continuing to work for law firms during the day, where she made close friends and valued colleagues with whom she still maintains contact today.
Recognizing her wealth of knowledge and expert research skills, Riker interned for the Stamford Superior Court for Honorable Edward R. Karazin while she was still working toward her law degree. Having taken a summer course, Riker graduated ahead of her class in January 1997 ─ even though she worked, made the Dean's List, and was involved in the Trial Advocacy Competition (both in 1996).
A year after graduating from Pace University School of Law, Riker found her permanent "home" at Wocl Leydon. She has worked in the personal injury and medical malpractice areas throughout her career with the firm. She has been a part of the "Wocl Leydon Family" for 20 years. "The people make the difference here at Wocl Leydon. (I will always think of it as Tooher, Wocl & Leydon.) We have solid, moral, and really good people working together," Riker said.
Like a family, Wocl Leydon has shared in many of Riker's life experiences, both joyous and sad. She believes that this unique bond is one of the things that enables the Wocl Leydon family to help their clients in a way that is compassionate, understanding, and ultimately more successful than other firms.
Having experienced a debilitating loss when her husband suffered a brain aneurysm, Riker is able to empathize with her clients and help them better understand the often-overwhelming issues they are being faced with. Her goal of helping those who have been injured and who are in need is fulfilled every day as she has the opportunity to work directly with families of those who have suffered catastrophic injuries at the hands of someone else's negligence, especially when that person is a trusted medical professional. It is her goal with each and every client to make sure that their questions are answered and that justice is done on their behalf.
"Fairness is what justice really is." This quote by Justice Potter Stewart most accurately describes the way Riker sees her role in the lives of her clients. She sets out every day seeking justice and trying to level the playing field for her clients. She knows that her clients cannot usually find that fairness on their own, so she is there to help find it for them with knowledge and compassion.
Riker is proud to be a member in good standing of the Fairfield County Bar Association. She is also a member of the Connecticut Bar Association and the Connecticut Trial Lawyers Association. She regularly attends CLE classes staying abreast of the latest legal information and technology within the medical malpractice and personal injury practice areas in order that she can provide her clients with the best representation possible.
"The people make the difference here at Wocl Leydon. … We have solid, moral, and really good people working together."
When she isn't with her Wocl Leydon family, she is the rock and sole provider for her family. She is the proud mother of a daughter, who is studying opera in college, and a son in high school. Living near a lake and enjoying the peace and quiet of the water, Riker and her family spend a great deal of time kayaking. Because she loves the "quaint town" lifestyle, being able to have a large garden, enjoying an outdoor fire pit in the summer, and knowing her children are safe out and about with their friends, Riker's commute isn't a short one. But she loves where she works and would never consider leaving her "extended family" at Wocl Leydon.