Personal Injury Lawyer in Shelton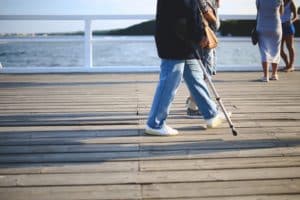 If you have been injured in or around Shelton, Connecticut, in an accident that was someone else's fault, you may be owed compensation. A Shelton personal injury lawyer at Wocl Leydon will give you individualized attention as we work to secure full compensation for your injuries.
Contact us today to schedule a free, no-obligation consultation to discuss the specifics of your case.
Injury Accidents in Shelton
Injuries are a major cause of hospitalizations and deaths in Shelton and across Fairfield County. Many of these injuries could have been prevented if someone had exercised adequate care and caution.
Most cities in the United States have a lot of motor vehicle accidents, and Shelton is no exception. According to the University of Connecticut, there were 925 car accidents in Shelton in a single recent year. A total of 207 of those crashes resulted in injuries ranging from minor to severe, and 27 crashes involved a driver who was under the influence of alcohol.
One notable accident in Shelton in 2019 involved a large truck carrying propane. In addition, there were two pedestrians injured in traffic accidents during the same year.
Trip and fall accidents are also prevalent throughout Fairfield County, including Shelton. In one recent year, Fairfield County had a higher rate of traumatic brain injuries (TBI) than any other county in Connecticut, according to the Connecticut Department of Public Health. Many of these occurred in elderly individuals as a result of a trip and fall accident. Dangerous premises are often to blame for this type of accident.
Most Common Types of Accidents in Shelton, CT
Some common types of accidents in Shelton include:
Motor vehicle accidents
Pedestrian accidents
Truck accidents
Motorcycle accidents
Trip and fall accidents
Dangerous and defective products
Dog bites
The attorneys at Wocl Leydon have extensive experience handling these and other types of injury cases. We are ready to put our skills and extensive resources to work for you.
Injuries That Result from These Accidents
Accidents can cause injuries ranging from very minor to severe, and some accidents can be fatal. Injuries could include, for example:
Spinal and nerve damage
Concussion/traumatic brain injury (TBI)
Puncture wounds
Burns
Back and neck injuries
Internal organ damage
Emotional trauma
Cuts and scrapes
Bruises
Broken bones
Strains and sprains
These injuries can have a lasting effect on a victim's ability to work, their relationships with family and friends, and their overall quality of life.
How Can Our Shelton, CT Personal Injury Attorney Help You?
An attorney will be able to provide customized assistance based on the specific circumstances of your case.
In general, you may be owed compensation to cover medical bills, long-term rehabilitation, lost wages, loss of future earning potential, pain and suffering, emotional trauma, and other losses. If your family member was killed, you may also be able to file a wrongful death lawsuit to seek compensation for funeral and burial expenses, loss of future wages, and loss of companionship.
For many types of accidents, especially vehicle accidents, you must file an insurance claim. For other types of accidents, it may be best to file a personal injury lawsuit against the individual or company responsible for your injuries. Many cases can be handled out of court, whereas others will need to go to trial.
Our attorneys can look at the details of your case and help you decide on the appropriate course of action for your situation.
Although some people choose to handle insurance claims on their own, victims typically receive higher amounts of compensation when an attorney handles their insurance claim. This is because the other party's insurance company may try to minimize the nature of your injuries and place some of the blame on you to get you to settle for the lowest amount of compensation possible.
The attorneys at Wocl Leydon have decades of experience negotiating with insurance companies and we take pride in protecting the rights of our injured clients.
How to Get Started with Your Case
As you prepare to begin your case, it is best to gather as much evidence as possible. The date and time of the accident, contact information for witnesses, and pictures taken at the scene of the accident could all be helpful pieces of evidence you can share with your attorney. An attorney will be able to help gather additional evidence to build a strong case.
In order to request compensation, we will need to prove that the other party is responsible for your injuries through either their negligence or intentional action. In order to prove that you are owed compensation, we will need to prove that the following elements are true:
The other individual or company had a duty to protect the safety of others.
That person or company failed to comply with their duty. Perhaps they broke a traffic law in the case of a car accident or failed to properly maintain their premises in the case of a slip and fall.
Your injury was a direct result of their negligence and not from some other cause.
In Connecticut, you only have two years from the time of the injury to file a personal injury claim. It is best to get started with your case as soon as possible to avoid running out of time.
Contact Wocl Leydon Today for a Free Consultation About Your Case
Being injured is overwhelming and happens when you least expect it. The legal process of seeking compensation can be daunting, and one wrong move can cost you thousands of dollars.
The attorneys at Wocl Leydon have decades of experience defending the rights of injury victims in Shelton and throughout Connecticut. We will pay close attention to every detail of your case to understand the big picture, and then utilize every resource possible to pursue the compensation you are owed.
Wocl Leydon has earned the trust of our clients as well as our peers in the legal community. When you meet with our team, you will see why. Contact us today by phone or by live chat on our website to schedule a free consultation.